What Is The Best Pet-Friendly Flooring For Your Home?
Whether you are building a new home or renovating, picking the right flooring is essential for all remodeling projects. If you are a pet owner, this decision is even more critical as the furry friends will cause enough wear and tear (dirt, stains, scratches).
However, you never have to leave your four-legged friend. The good news is that there are plenty of options in flooring for pet owners. At least in 40% of homes, you will find a dog or a cat.
Just remember the best flooring for dogs, cats and other pets must be one that you can also enjoy.
This pet-friendly flooring option guide will help you find the best one for your home.
Tile And Stone Flooring
If you want to find the best flooring that you can hold up to whatever your pet dishes out, then stone and tile are the right options. These floors are stain-resistant, water-resistant, and easy to clean.
Tile and stone flooring works well with pets of every age. So, if you have a new puppy learning to potty-train or an older dog who has trouble controlling the bowel, these floors are forgiving.
If you forget to trim your pet's nails, don't worry about them scratching or damaging the floors.
However, the downside is that these floors are cold and hard. Cats can find a cozy couch to rest. But, if you have dogs, ensure they have a soft rug in the house to lie down.
Cork Flooring
Cork flooring is a great choice of pet proof flooring. It resembles hardwood flooring and it is microbial.
What does it mean? If your pet has an accident on the floor, it is less likely to lead to the growth of mold, bacteria and other allergens.
While you can clean it up quickly, if you don't discover the accident, you can still remove it. Cork also absorbs sound. If you don't love the sound of your pet trapesing noisily through the house, cork is one of the best flooring for dogs.
Cork is also scratch-resistant. However, this doesn't mean it won't scratch and keeping the pet's nails trimmed is still a good idea.
Choose a lighter shade of cork flooring to minimize the look of scratch marks.
Bamboo Flooring
Like the cork, bamboo flooring is another great option if you want a natural, wood look for your home. It is extremely stain-resistant, durable and scratch-resistant. So, you can feel at ease as you watch your pet run across your new floors.
Just ensure you choose the right bamboo flooring. Not all bamboo appears equal. Choose pet proof flooring that compliments your home and ideal for your pets.
Choose one with a high rating for hardness according to the Janka test. Bamboo flooring is easy to maintain. So, whatever the pet drags into the house from the outside is easy to clean up.
Water spills and food won't damage these floors either if cleaned up properly. Also, bamboo is very sustainable. So, you are doing something good for the environment when choosing bamboo.
Solid Hardwood Flooring
Solid hardwood is like your expensive dress that needs dry cleaning. The point is, if you will pay top dollar for solid hardwood flooring, you want it to last. If you don't want to waste your time and energy stressing about scratches, dents and puppy pee.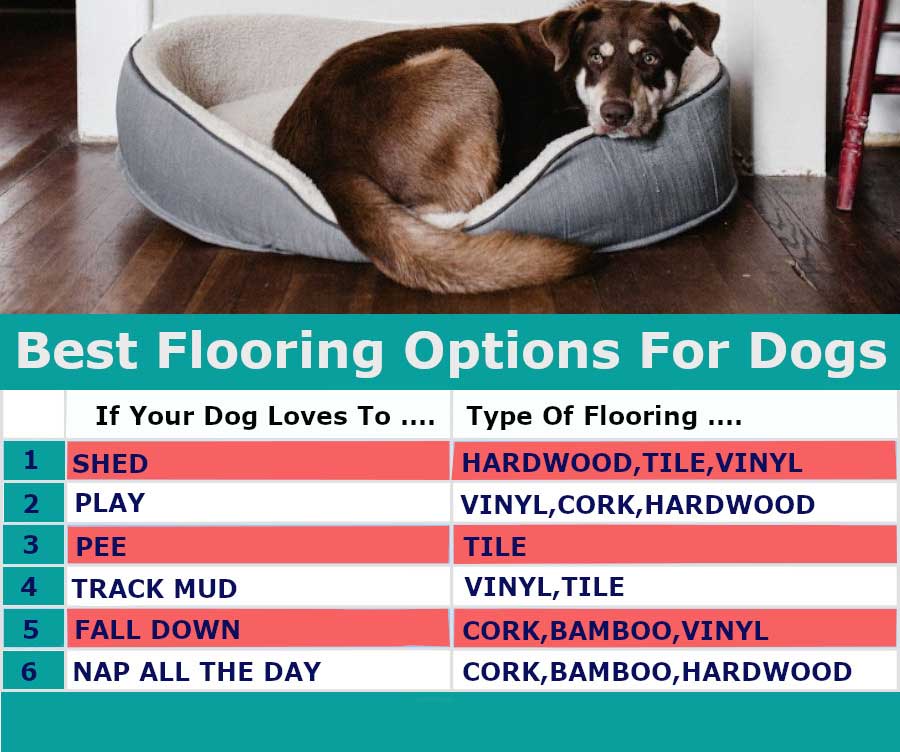 If you are desperate about getting wood flooring, the hardwood floor is the best option. It is not fussy and gives your home a classic, gorgeous look of the real wood.
Luxury Vinyl Flooring
Luxury Vinyl Flooring is a great choice if you have pets at home. It can mimic the look for natural stone tile or hardwood, but it is easier on the pets and budget.
Luxury vinyl comes in several forms such as luxury vinyl planks and luxury vinyl tile. Both options work well with pets for many reasons. Luxury vinyl is durable.
Final Words
While there is no perfect flooring, there are most durable flooring options. There are plenty of options that will work. Some work better than others.
You must choose customizable floors to suit your needs and the needs of your pet.
Solid Hardwood flooring is the best option. Try to keep the pets groomed and trim the nails. With the regular upkeep of your floor and the pets, you can have nice floors in your pet-friendly home.